About Frontenac Builders
Frontenac Builders is a custom home builder
specializing in the development and construction of luxury homes
in the finest neighborhoods of St. Louis County, focusing on the communities of
Frontenac, Huntleigh and Ladue
. We take great pride in creating the home of your dreams with classic design, the finest materials, quality craftsmanship, and the latest amenities.
The principals of Frontenac Builders have been building homes in the Frontenac area for more than 20 years and are active and well known in the community. We will personally work with you throughout the process to assure that building your new home is an enjoyable experience resulting in the home of your dreams in every detail.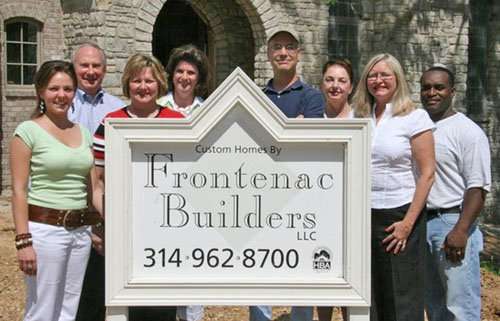 Pictured from left to right
Amy Kopesky, Mike Thaman, Kathy Follmer, Lori Thaman, Bob Earthal,
Gloria Winston, Jerri Thaman, Brian Linzie
The unique background, experience, and commitment of our management team sets Frontenac Builders apart from the others and assures the highest level of personal service, attention to detail, and insistence on precision and quality.
Staff Bios